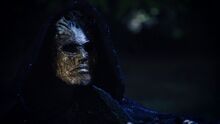 The mysterious Mr. Ix, locked away in some unknown location.
Little is known about him except that if you're lucky, he can raise you from the gutter and that if you then cross him, the gutter is the best you can hope for.
It is also known that Mr. Ix owes favours to powerful people but that he may ask for favours in turn.